In a bold and decisive move that signifies a substantial shift in its business approach, Pazurina Holdings has recently undergone a profound rebranding effort, emerging under the new identity of Pazurina Holiday Homes.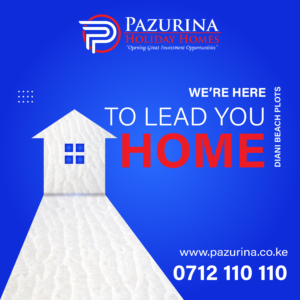 This strategic transition reflects the company's steadfast commitment to providing clients with a comprehensive and all-encompassing solution for their diverse property requirements, particularly within the domain of vacation residences.
Gone are the days when Pazurina was exclusively recognized for its offerings of land parcels in Diani available for purchase by clients.
With this astute strategic realignment, the company is poised to revolutionize the way individuals engage in property investment and ownership endeavors.
At the core of the Pazurina Holiday Homes concept lies the aspiration of transforming dreams into tangible reality. This journey commences with aiding customers in selecting their ideal plot from our projects situated in Diani.
Subsequently, Pazurina collaborates closely with its clientele, engaging the expertise of skilled architects to meticulously craft bespoke designs for holiday homes that harmoniously resonate with the clients' unique visions.
The company's unwavering commitment to excellence extends to the construction phase, where Pazurina's accomplished contractors meticulously ensure that each holiday home is erected to the most exacting standards, seamlessly merging aesthetics with practicality.
With the skilled selected contractors managing the entire construction process, Pazurina guarantees the delivery of a masterfully crafted haven that authentically reflects the aspirations of the client.
Leveraging its extensive proficiency, Pazurina ensures that these holiday homes translate into lucrative income sources for their proprietors, thus metamorphosing into valuable revenue streams.
The rebranding to Pazurina Holiday Homes goes beyond a mere alteration of name; it symbolizes a calculated pivot toward holistic property services designed to cater to the evolving requisites and aspirations of contemporary investors, both locally and within the diaspora.
Through this fresh trajectory, Pazurina aims to redefine the very notion of property ownership, striving to create a seamless and hassle-free experience that optimizes both financial gains and personal contentment.
As the company embarks upon this thrilling odyssey, Pazurina Holiday Homes is perfectly poised to establish novel benchmarks within the industry.
In an era where convenience and value reign supreme, Pazurina Holiday Homes has emerged as a trailblazer, vividly illustrating the boundless potential that emerges when an enterprising enterprise embraces transformative change.
As the company extends an invitation to clients to join them on a journey, spanning from plot selection to the gratification of realizing a lucrative rental asset, one certainty prevails: a new epoch of property services has dawned, with Pazurina Holiday Homes at the forefront, fully prepared to metamorphose dreams into concrete reality.
How can one initiate their engagement with Pazurina Holiday Homes?
Seize this unique opportunity to secure a beach plot within Diani Golf Resort, Diani Suburbs, Bustani Gardens, or Oceanview, and commence the journey of crafting your very own holiday retreat.

Dare to dream, and allow Pazurina Holiday Homes to manifest those dreams into tangible existence.
To learn more, please contact us at 0712 110 110 or explore our website at www.pazurina.co.ke.